Description
The ProD2 is a 2-channel passive direct box designed to connect stereo keyboards or high output instruments to a PA system or home recording setup without noise or distortion.
Stereo direct box designed for keyboards
Smooth, warm sound rounds out digital edge
Able to handle huge transients without choking
May be rack mounted for touring rigs
World class DI
At the heart of the design are two high performance Eclipse ET-DB2 transformers. These deliver 20Hz to 20kHz performance with less than 1.5dB deviation above 18kHz and are able to withstand tremendous signal levels without distortion. Unlike active circuits that overload when the signal exceeds the rail voltage, transformers saturate. This creates a pleasing effect that naturally rounds out the tone, acting like a subtle limiter which is particularly advantageous when interfacing the ProD2 with digital pianos, samplers and drum machines that can produce excessive dynamics. Transformers are particularly adept at eliminating hum and buzz caused by ground loops.
ProD2

 

Applications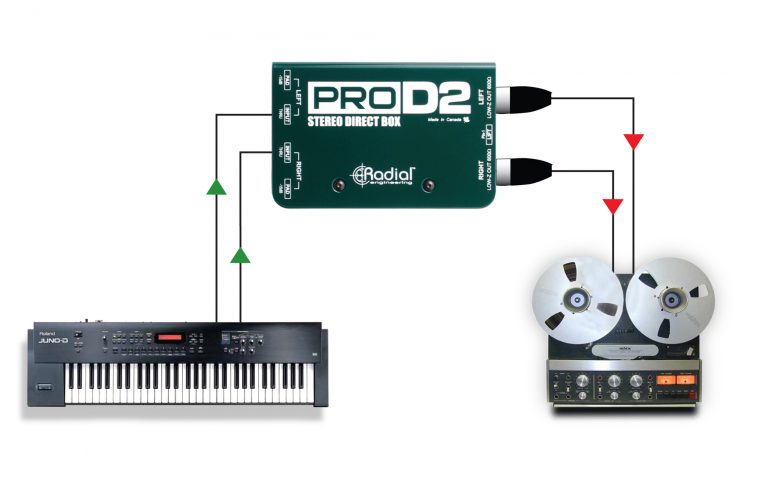 ProD2 with Stereo Keyboard
The ProD2 is designed for stereo devices like keyboards. Simple, straight ahead hookup makes it easy to connect your keys to your recording system for great stereo sound!
ProD2 with Instruments
Two Radial ProDI direct boxes in one, multi instrumentalists rejoice! The ProD2 is perfectly well suited for bass, acoustic guitar or just about any instrument with a pickup.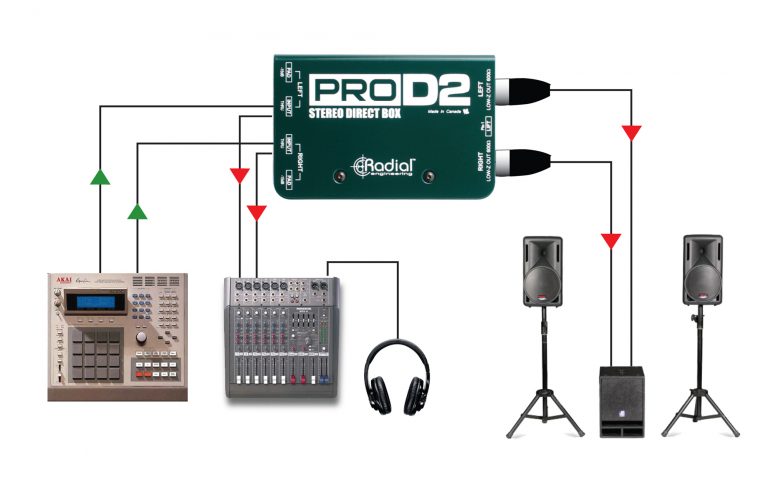 ProD2 with Drums & Samplers
Driving the output from a sampler or electronic drum machine to the PA system has never been easier. The ProD2 delivers plenty of headroom and lets you connect a local DJ mixer too.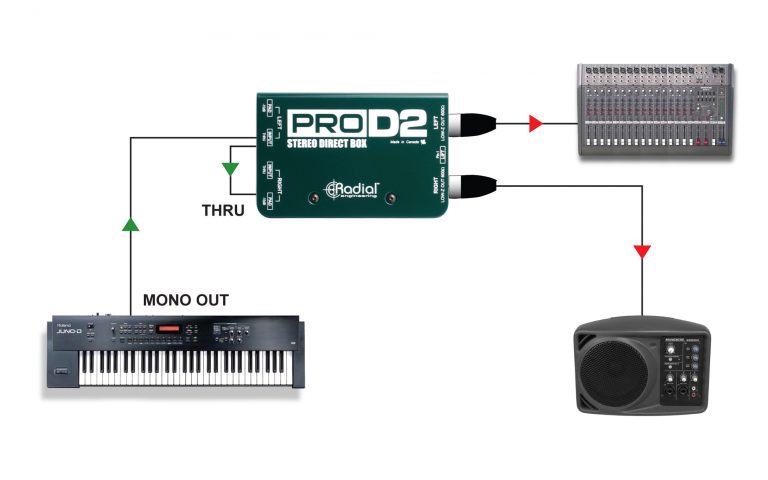 ProD2 as a splitter
Take the mono output from your keyboard and patch it into Ch 1, use the THRU on Ch 1 to send a split signal to Ch 2. Voila! Two isolated mic level outputs to send to FOH and Monitors!
Payment & Security
Payment methods
Your payment information is processed securely. We do not store credit card details nor have access to your credit card information.
---
Security