Description
MIX, RECORD, MONITOR, PLAYBACK, AND REMIX.
With the LiveTrak L‑12, you can finally mix, record, and monitor with a single piece of gear. It's the only digital console that lets you mix your live performance and record up to 12 discrete channels – all while providing five individual custom headphone mixes.
EFFORTLESS LIVE MIXING
LiveTrak's 12 discrete channels (eight mono plus two stereo) have a 3-band mid-parametric EQ and 16 built-in send effects. Its eight mono channels also have a dedicated compressor.
With all these controls plus its 12-segment LED metering, the L-12 offers just what you need for intuitive mixing.
RECORD EVERYTHING, REMIX ANYWHERE
LiveTrak lets you record 12 discrete tracks up to 24-bit/96 kHz WAV audio to an SD cardwhile simultaneously mixing your live show. Tracks are recorded pre-EQ and effects, so they can be transferred to your favorite DAW
for further mixing and editing.

*Effects, EQ, overdub, audio interface, fader modes A-E, and channels 13-14 (stereo mix) are not available in 96 kHz.
FIVE CUSTOM MONITORING MIXES
Each of LiveTrak's five monitor outputs provides a unique mix, so every performer can create and save a mix that's tailored to their preferences. Its headphone amplifier delivers volume that stands up in any live environment without the need for a separate headphone monitoring setup.
USB CONNECTIVITY FOR YOUR DAW
LiveTrak is also a 14-in/4-out USB audio interface with flexible routing options, offering unlimited possibilities. Class compliant mode, which enables connection with iOS devices, is also supported.*
*Apple Lightning to USB Camera Adapter required.
WHAT'S UNDER THE HOOD?



Our Best Mic Preamps Yet
At -128 dBu EIN with +60 dB maximum input gain, LiveTrak is equipped with the quietest and most advanced preamps we've ever made. Just wait until you hear how incredible it sounds.
High-Definition Sample Rates
The L-12 supports sample rates up to 96 kHz when recording to an SD card, allowing you to record in high definition. In Audio Interface mode, the L-12 can record up to 48 kHz to a computer and an SD card simultaneously.
Convenient Auto Recording
Record automatically by adjusting the L-12's customizable audio input commands. Set it to start when the master fader detects a certain dB level, or use a guitar chord or snare hit to start the track. You can capture data up to two seconds before recording starts, in case a performance begins ahead of time.
Versatile Operation Modes
The L-12 is equipped with several operation modes. Audio Interface mode lets you route inputs and outputs to any DAW.
With USB Host mode, transfer projects and audio files to a connected USB flash drive. In Card Reader mode, the L-12 acts as an SD card reader, allowing you to transfer audio files to and from your computer.
Here's what comes included with the L-12:
AC adapter (AD-19)
USB 2.0 cable
Quick Guide
Optional Accessory:
RKL-12 Rack mount adapter for LiveTrak L-12
FS-01 Momentary Footswitch
CBL-20 Carrying Bag
THE CHANNEL STRIP

All 12 inputs include a channel fader and mute button. The eight mono inputs also include single-knob compression and gain control. Record or playback individual channels with the "Rec/Play" button. Use the "Select" button to apply Channel Strip settings (EQ and panning controls, and "EFX Return" settings) to the selected channel.

EASY EQ CONTRO

The L-12 provides a smooth 3-band mid-parametric EQ and a low cut function for each input channel.

PLENTY OF INPUTS

The L-12's combo inputs support XLR or 1/4-inch connections. Channels 1 and 2 offer Hi-Z inputs for connecting an electric guitar or bass. Channels 9/10 and 11/12 have TS line connectivity for keyboards and other audio devices, as well as RCA inputs. 

NAVIGATION AND DISPLAY

LiveTrak's bright, backlit LCD screen and encoder knob let you access an intuitive menu system to create new projects, recall previous projects, and customize your recorder settings.

16 ONBOARD EFFECTS

The L-12 offers 16 built-in effects with fully adjustable parameters. Choose from delay and reverb effects, then apply them to any channel.

CUSTOM SCENE SETTINGS

Save up to nine different scenes and recall your custom settings automatically. Each scene saves fader position, EQ settings, pan, mute, and more. The "Fader Mode" buttons allow you to design custom mixes for both the Master and monitor outs.

SLATE MIC AND METRONOME

Use the built-in slate mic to record comments or talk-back, and program the metronome to your desired tempo.

FLEXIBLE MONITORING OPTIONS

Five powered headphone outputs can send individual monitor sub mixes to headphones, in-ear monitors, or powered monitor speakers. Headphone output A also features two 1/4" outputs for connection to additional monitors. The main outputs feature XLR connectors to easily connect to your PA.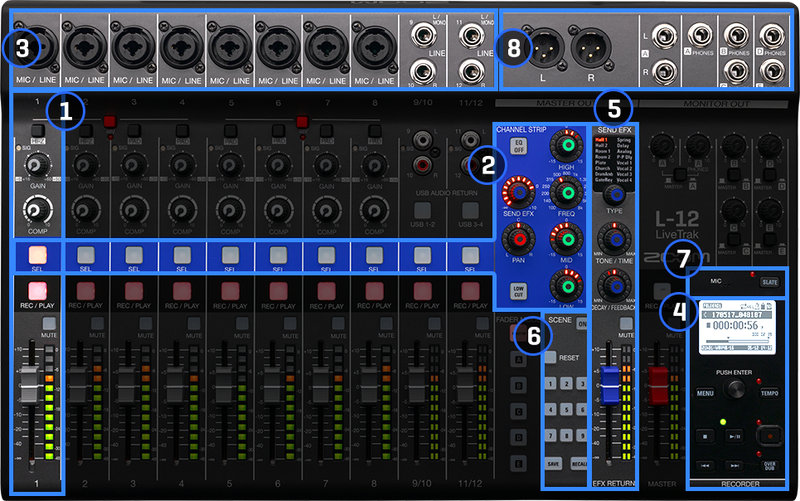 FEATURE LIST
12 discrete channels (8 mono plus 2 stereo) with XLR or 1/4-inch connectivity
14-track simultaneous recording, 12-track playback
14-in/4-out USB audio interface connectivity
5 powered headphone outputs, each with a customizable and saveable mix
Add backing/click tracks from your computer to your live mix and recording
RCA and TRS line inputs
48V phantom power (channels 1-4 and 5-8)
Hi-Z connectivity (channels 1 and 2)
26 dB pad (channels 3-8)
Built-in compression control (Channels 1-8)
Digital level meters -48 dB to -0 dB
Master mute button
Low-cut control
Stereo panning
Master and Monitor Outputs A-E
Scene saving function, up to 9 scenes saved at a time
16 built-in delay and reverb effects with adjustable parameters
Built-in slate mic
Class-compliant mode (for iOS compatibility)
SD card input
Built-in metronome
Automatic recording starting/stopping capability
Project protection
Import/export projects with USB 2.0 host port
Latency adjustment for A-to-D conversion
Compatible functions for ZOOM FS01 footswitch
SPECS
NUMBER OF INPUT AND OUTPUT CHANNELS
| | |
| --- | --- |
| INPUTS: | Mono (MIC/LINE): 8 Stereo (LINE): 2 |
| OUTPUTS: | MASTER OUT: 1    MONITOR OUT: 5 |
| | |
INPUTS
| | |
| --- | --- |
| MONO (MIC/LINE): | Type: XLR/TRS combo jacks (XLR: 2 HOT, TRS: TIP HOT)) |
| | Input gain : PAD OFF: +16 – +60 dB PAD ON: −10 – +34 dB Hi-Z ON: +6 – +50 dB |
| | Input impedance : XLR: 3 kΩ TRS: 10 kΩ/1 MΩ (when Hi-Z ON |
| | Maximum input level : PAD OFF: 0 dBu (at 0 dBFS) PAD ON: +26 dBu (at 0 dBFS) |
| | Phantom power : +48 V |
| STEREO (LINE) | Type TRS phone/RCA pin (unbalanced) jacks |
| | Maximum input level +16 dBu |
| | |
Outputs
| | |
| --- | --- |
| MASTER OUT | Type XLR jacks (balanced) |
| | Maximum output level +14.5 dBu |
| | Output impedance 100 Ω |
| MONITOR OUT - A (TRS) | Type TRS phone jacks (balanced) |
| | Maximum output level +14.5 dBu |
| | Output impedance 100 Ω |
| MONITOR OUT A–E (PHONES) | Type Standard stereo phone jacks |
| | Maximum output level 42 mW + 42 mW at 60 Ω |
| | Output impedance 100 Ω |
| | |
Buses
| | |
| --- | --- |
| MASTER | 1 |
| MONITOR | 5 |
| SEND EFX | 1 |
| | |
Channel strip
| | |
| --- | --- |
| COMP | |
| LOW CUT | 75 Hz, 12 dB/OCT |
| EQ | HIGH: 10 kHz, ±15 dB, shelving MID: 100 Hz–8 kHz, ±15 dB, peaking LOW: 100 Hz, ±15 dB, shelving |
| LEVEL METERS | 12 segments |
| SEND EFFECTS | 16 types |
| | |
Recorder
| | |
| --- | --- |
| MAXIMUM SIMULTANEOUS RECORDING TRACKS | 14 at 44.1/48 kHz 12 at 96 kHz |
| MAXIMUM SIMULTANEOUS PLAYBACK TRACKS | 12 |
| RECORDING FORMAT | WAV 44.1/48/96 kHz, 16/24-bit, mono/stereo WAV format |
| RECORDING MEDIA | 16MB–2GB SD cards, 4GB–32GB SDHC cards, 64GB– 512GB SDXC cards |
| | |
Audio interface
| | |
| --- | --- |
| 44.1/48KHZ | Recording: 14 channels | Playback: 4 channels |
| BIT DEPTH | 24-bit |
| INTERFACE | USB 2.0 |
Payment & Security
Payment methods
Your payment information is processed securely. We do not store credit card details nor have access to your credit card information.
---
Security