Description
A Studio-quality Handheld Condenser
Take studio quality onto the stage with the AKG C7 handheld condenser microphone. Expect clear sound reproduction and sparkling highs when you sing into this mic, thanks to its custom-tuned capsule and hand-selected components. Feedback is a non-issue, by virtue of the C7's open-space supercardioid design. A mechano-pneumatic shock absorber suspension and multilayer pop noise protection prevent unwanted vibrations and plosives from reaching the capsule and spoiling your performance. Rugged zinc alloy construction, a spring steel grille, and a 24-karat gold-plated capsule ensure that the AKG C7 handheld condenser microphone can handle the demands of your toughest gigs.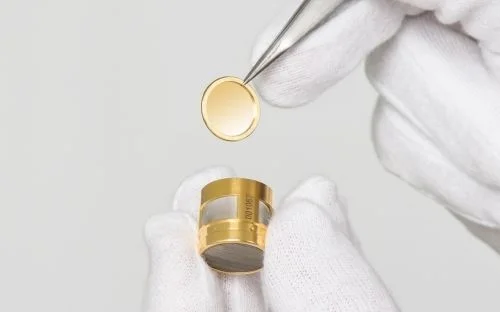 AKG condenser-quality packed into a stage-ready handheld mic
The AKG C7 sounds like a studio microphone, but performs like a handheld vocal mic. Its custom-tuned condenser capsule captures and reproduces your voice with pristine clarity. And with a maximum SPL of 150dB, it can withstand serious volume. So belt away. The C7 will still sound great.
Open-space supercardioid design gives rise to a feedback-free performance
One of the first things we noticed about the AKG C7 here at Sweetwater is how resistant it is to feedback. Thanks to its open-space supercardioid capsule, you can step really close to stage monitors without any annoying squealing. A pair of window ports also increases air flow through the C7's capsule, making it extremely lightweight. This microphone delivers excellent supercardioid response throughout its entire 20Hz to 20kHz frequency range.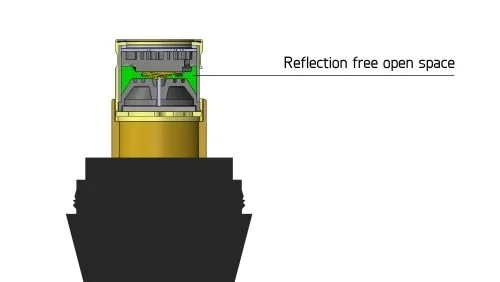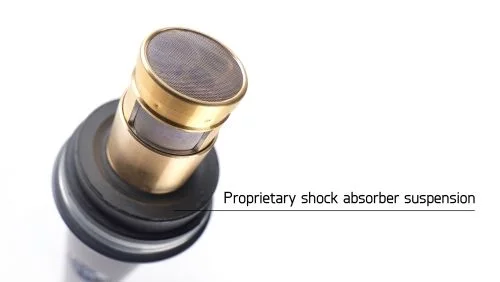 Proprietary shock absorber suspension eliminates handling noise
Do you enjoy handling noise? Probably not. We don't either. The AKG C7's proprietary mechano-pneumatic shock absorber suspension does an incredible job of keeping the rumble out of your sound. The microphone's capsule actually sits right on top of the shock absorber, which offers continuous protection against unwanted vibrations.
Stop plosives in their tracks with multilayer pop noise protection
Plosives sound bad, plain and simple. The AKG C7 features multilayer pop noise protection to deal with this irritating problem. If a burst of wind wants to hit the C7's capsule, it needs to penetrate a proprietary mic grille, dense foam underneath the grille, and a mesh layer encasing the capsule first. The C7 has got you covered &mdash, no need to ever worry about aggressive vocal performances.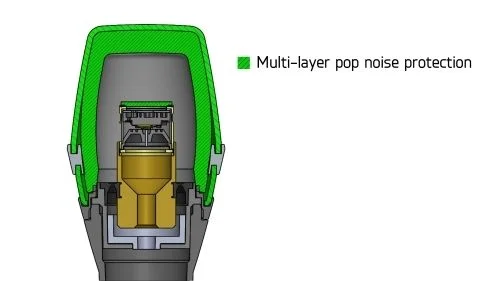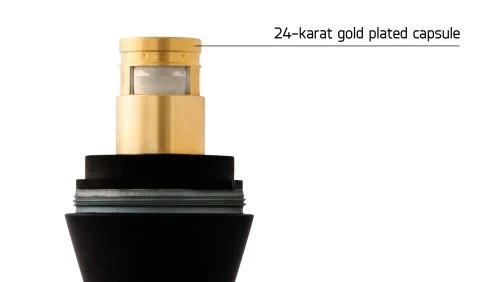 Rugged construction to withstand the rigors of the road
The AKG C7 is a tough microphone. Its rugged zinc alloy construction and spring steel grille are built to take a beating. And its 24-karat gold-plated capsule protects it from moisture and corrosion. The C7 is truly a worry-free mic.
AKG C7 Handheld Condenser Microphone Features:
Custom-tuned condenser capsule delivers studio-quality sound in a handheld mic
Open-space capsule design provides impressive gain before feedback
Proprietary mechano-pneumatic shock absorber suspension protects against handling noise
Multilayer pop noise protection keeps plosives at bay
Rugged zinc alloy construction, spring steel grille, and 24-karat gold-plated capsule
Additional Media
Studio Microphone Buying Guide
Tech Specs
Microphone Type:Condenser
Polar Pattern:Supercardioid
Diaphragm Size:19mm
Frequency Response:20Hz-20kHz
Max SPL:150 dB SPL (1% THD @ 1kHz)
Output Impedance:600 ohms
Signal to Noise Ratio:73dB (A weighted)
Self Noise:21dB (A weighted)
Color:Grayish Blue matte body
Connector:XLR
Weight:0.69 lbs.
Payment & Security
Payment methods
Your payment information is processed securely. We do not store credit card details nor have access to your credit card information.
---
Security